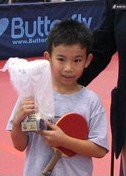 Report from Chi Lam, Grand Rapids Michigan, June 30, 2010- Also see Final elimination Bracket Here.
1st day of US Open here for our RTTC players. Michael Tran, Chris Lam, and Brandon Lam. What a huge event, over 700 players, I think just about 100 tables, all sort of Table Tennis vendors. Quite impressive. Facility is nice, hotel is good. So far seems like a well attended and well run tournament. Lot of international players as well.

All three kids played at the U-1350 today. Brandon started out rusty, looked like needed more relax and warm-up. Lost the 1st two matches in his round-robin, and finally started to get going, and won a match in his round-robin. Only 1 person would advance. Brandon done for the day.

Chris won his round-robin, into round of 16 (singles elimination). Won the next one, into round of 8 (quarter-final). Played a 9-year old boy from California. Close game, Chris lost 1-3. Done for that event.

Chris had one more event later in the day, Boys Cadet (15 and under years old). Unfortunately they were doing only singles-elimination. Chris played a player from Canada, pretty strong, but had a close match. Chris lost. Done for the day.

Then we could all turn our focus to Michael. Michael cruised through his round-robin, advancing into round of 16. Cruised through the stages into FINAL, yes! Onto the nice red-rubber-floor court. What an amazing match!! Michael started out a little tight, wasn't playing like he would, probably due to all the attention around the court on the table. People are video-taping the match in many corners. Many top players / coaches were watching as well. Being down 0-2, Hoang (dad and coach) figured out the strategy to help turn things around, and it worked. Michael easily took game 3 and game 4, into the final game 5. Michael continued his momentum, up 5-3, change side. The other side called time-out. Then the opponent went 3 point in a way to go back up 6-5. Michael hung tough, then went 5 amazing points in a row (those were really good points, long rally), up 10-6, at match point. The other side trying to come back, 3 point in a row again, now 10-9. We now called a critical time-out, to try to win the next point. Michael went back, served, and the other guy missed. Michael WON!!! Our very first US Open Champion!!!!!!!!!!!!!!!!! Congrats Michael! That was one incredible match!! Congrats from many people around that were watching. What a wonderful day for the little 7-yr old. Go Michael!
Today started early at 9am. All 3 kids played in U-1500 at that time. Started tough here. Michael lost 2 very close matches in his round-robin, did not advance.

Brandon seeded last, came out firing, beating the top seed (~1400), lost a very close one to the 2nd seed (one of those could have, should have). Beat the 3rd seed. Went into a 3-way tie, unfortunately came out short based upon game W-L records.

Christopher seeded 2nd, beat the 1st seed and 4th seed, but lost to the 3rd seed. 2-way tie with the 3rd seed, but lost by face-off result. Did not advance.

Moving on to next event, Brandon in 13 and Under boys singles. Facing off a 1600 rated player in his first match. This is single elimination only. Leading the 1st game, but then lost in deuce. Won 2nd game, but then sort of lost his focus in the next two games. Done with the event.

Next up, Michael in 9 and Under boys singles. Exciting event, with a lot of strong kids in the field. Amazing with all the little kids, and how well they all played. Singles elimination again. Michael won the 1st match easily, into quarter-final. Facing last year finalist. Close game, but the opponent proven to be a little bit more over-powering in this case, Michael gave a good flight, but lost 1-3. Done with the event.

Last event of the day, U-1650. Michael played his heart out, with two close matches, both went to 5 games. Unfortunately, didn't go his way. Exhausted and very tired. Michael had to default the last match and really need some rest and break from it. But I know Michael would be back.

Chris seeded 3rd, beat the 2nd seed. Lost a 5-gamer to the 1st seed (Chris didn't realize the guy had anti-spin on his backhand until mid-way thru game 3, once he realized that, he won game 3 and game 4 easy). But lost in 5th. Went into a 2-way tie situation with 2nd seed. But since Chris beat him, Chris ADVANCED. Into the next round, that would play tomorrow (Friday).

Brandon seeded last (4th) in his group for this event. Came out firing, beating the 1st seed 3-1 (1st seed is rated at 1638, yes!). Then we got two other juniors as 2nd and 3rd seeds. Brandon played the Korean boy next (another 1500+ player). This kid looked strong with big loop, but Brandon playing patiently and blocked his loop well. Brandon took the match 3-1! Down to the other junior, the 11-year old girl from ICC (1400+ player). Very strong fundamental, good offensive game and played calm. Brandon went to 5-game with her, unfortunately lost. You guessed it right, 3-way tie again, between 1st seed, the girl (3rd seed), and Brandon (4th seed). For a change, Brandon this time came out ahead, and yes, ADVANCED!!! Also will play the next round tomorrow (Fri).

So U-1650 event continues into Fri. Look forward to another exciting tournament day tomorrow for the boys!
Day 3 - July 2 (Fri)

Chris started the day at 9am with U-1950. Started with a long pips guy, played tough, but the long pips top seed proved to be too much for him. Then Chris played the 2nd seed, a 12-year girl from ICC (about 1700+). Played close, but lost 1-3. 4th seed didn't show (default). Chris done with that event.

At noon, Chris and Brandon both continued their U-1650 journey. Brandon played a solid 1600 guy, but didn't have all his energy level at the peak to play at that time. Lost 0-3. Out of the event. Chris played a strong looper for his side, played extremely close, went all the way to 5 games, but lost. Out of the event also.

Then Brandon and Michael got to play their 11 and Under boys. Brandon and Michael both won the 1st elimination. Advanced into Round of 16. Michael faced the top seed (2000+), had some good rallies, but proved to be too much for Michael. Michael out of the event. Brandon played the 2nd seed in the event (also 2000+). Brandon actually led 6-2 in the first game, playing with fire, before losing that game, and then the next two as well. Brandon played quite competitively with him the whole match though. Brandon out of the event also.

Brandon and Michael also played the U-1200. Michael beat everyone except the Canadian who has no rating in his Round-robin. Michael advanced (the Canadian cannot advance further because of no rating). Similar fate for Brandon, beat everyone except another Canadian who has no rating. Brandon advanced. They both got a bye in the 1st elimination round. Then Michael won the next one pretty easily, into the quarterfinal. Played the girl from NJ next (Lily Yip's student). She was tough, quick on both sides. Definitely strong. But Michael played amazingly again and took 3-1 and advancing to semi-final, which would be played tomorrow. Brandon had to wait two hour to play his next opponent, because she had a conflict. At about 8:45pm (instead of the original scheduled 6:45pm), we finally played that match. Brandon played solid, and won. Then into quarter-final right away, playing a blocker, from Grand Rapids locally. By this time, Brandon was tired, exhausted, hanging on a thread to continue. Brandon down 1-2 in games, then came back in a close one at 4th. Then went to the scary 5th game again. Behind at switch-side, 3-5, Brandon playing tough, tied up at 5-5, then 6-6, then 7-7. Finally pulled away at 11-7. Everyone cheered!!! Brandon into semi-final as well (pretty likely the last match for the day at that time). Both Michael and Brandon will play semi tomorrow. Keeping my fingers crossed, to hope for an all Rochester Finals!! Go Michael and Brandon!!
Day 4 - July 3 (Sat

Both Brandon and Michael played their semi-finals for U-1200 today. Brandon started first, playing this guy with long-pips (not the best scenario ... in fact, I checked his latest rating in USATT the night before, he had a 1700+ rating as the latest). Brandon was somewhat tight on this match, in the red-rubber-floor court, with umpire. Pretty official. Brandon had a 10-8 lead in the 1st game, but unfortunately made two easy short mistake, and went to deuce and lost that game eventually. That hurts. Brandon ended up playing a close match, losing 1-3 at the end. Michael then played his other semi-final match, the guy had some rubber problem after the umpire required him to change to another paddle. So he ended up using his old paddle (advantage I guess to Michael). Michael ended up winning the semi relatively easily.

In the final, I actually wasn't there, but caught up with Hoang on the phone later on to find out what happened. Michael playing this guy that beat Brandon. Playing well, and a lot of rallies, went 5 games. Although Michael at the end did lose the match, it was so many good rallies, that caught a lot of crowd and attention. Sounded like USATT magazine would be doing a article on Michael next month.

All in all, what a tourney. The 3 kids did really well throughout the whole tournament, many close and tough matches, they hung tough in each of those. They all beat some much higher rated players. Great experience at a major national tournament. Very proud of you all!